We have a nationwide network of 45+ audited,framework suppliers ready and waiting to support you and your existing agency relationships.
We administer our core supplier network on a daily basis, reacting to your ongoing requirements, peaks and troughs in demand so that your desired fill rate and level of choice are maintained.
This is proven to deliver a combined fill rate of 95%, with 74% first offers within an hour and an invoice accuracy rate of 99.8%.
First Offer within 1 hour -
74%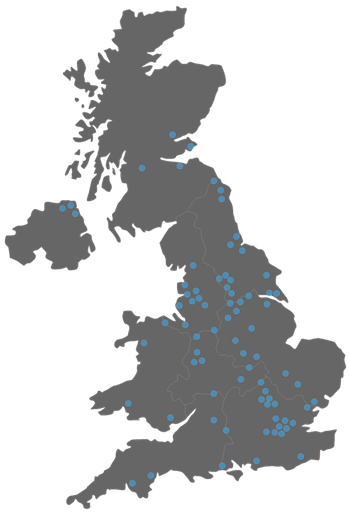 ULTRA SECURE

Ultra secure environment accessed via a 256 bit TLS/SSL connection. ISO 9001, 27001, 14001, Cyber Essentials Plus, regular CHECK tested, including UK- specific: Information Governance (IG) Level 3, and ICO registered.

VENDOR MANAGEMENT

Manage 1-10,000 vendors via a single cutting edge application, automated workflow and configurable processes with real-time KPI monitoring, scorecards and productivity reporting.

REDUCED COSTS

Configurable client rate cards control agreed/set pay, charge and commission rates. Transparent offering and escalation approval mechanisms in line with NHSi compliance.

FULL MANAGED SERVICE

Our dedicated team of managed service professionals oversee everything from implementation through to account management, supporting clients and suppliers 24 hours a day, 7 days a week, 365 days a year, a true out of hours service.
AUTOMATED CHECKS

We automate continuous data cleansing via robust data validation and via APIs connected to GMC, NMC, HCPC, DBS, Companies House, Bank Account Validation, and Postcode lookup databases.

CANDIDATE COMPLIANCE

Fully audited candidate compliance management, monitoring and enforcement. Checks on document validity and expiry are managed autonomously and all documentation is validated by a human.

REAL-TIME REPORTING

All data is maintained and updated in real-time allowing for the most accurate reporting across all business areas simultaneously, providing total visibility and controls of your entire supply chain.

NATIONAL FRAMEWORKS

We have been awarded places on all current national UK Goverment frameworks: LPP (CPP), HTE and CSS G-Cloud 8 Frameworks.
Frequently Asked Questions